Government Affairs Committee
Must be registered to vote. 
Monitor and pursue legislative activities that relate to the AFA-CWA political agenda, and to build positive relationships with your elected officials. 
Make suggestions on initiatives that could be pursued in legislative affairs and political matters to the MEC.  
Schedule meetings with local elected officials and key staff.  
Act on and follow through on directives as established in the AFA-CWA Constitution and Bylaws, Policy Manual, and Flight PAC. 
Act on recommendations of the AFA-CWA Director of Government Affairs and AFA- CWA Legislative Policy Committee. 
AFA Government Affairs lobbies members of Congress, provides lobbying training to AFA members and organizes grassroots member activism around the issues that matter most to Flight Attendants.  
AFA is frequently invited to provide expert advice on Flight Attendant issues and to give testimony on behalf of our members in congressional hearings.
The AFA Government Affairs Department and our extensive network of Flight Attendant activists influence decisions made at the highest levels of government that directly impact our profession.
When AFA successfully shepherds a Flight Attendant issue through the legislative process until it is enacted into law, we can take it off of the negotiating table and use our leverage to obtain other contractual gains.
Sign up for FlightPac and help Pro-Union candidates get elected!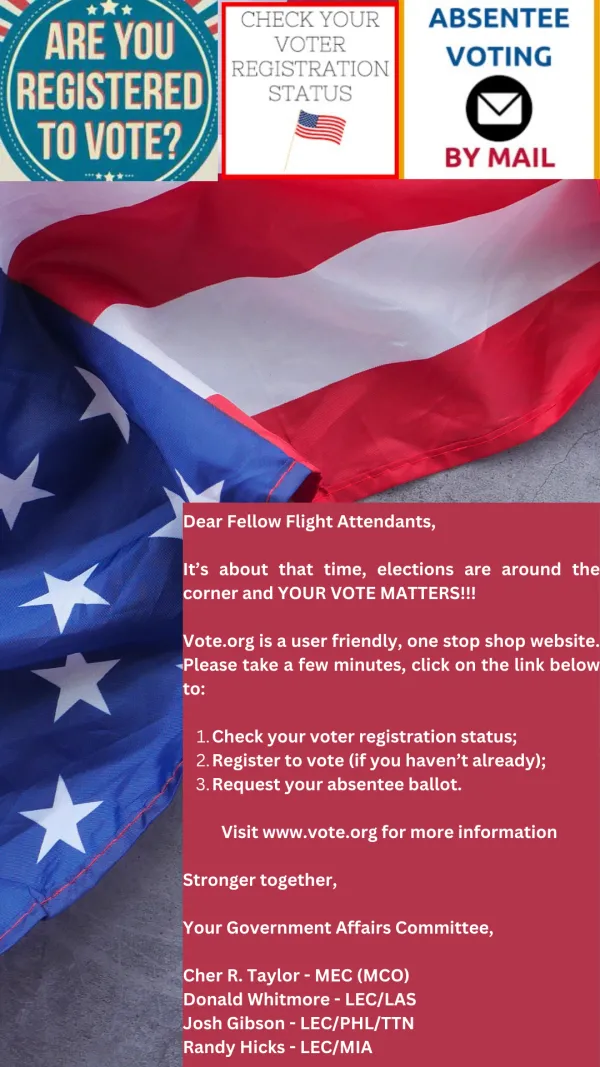 Reps
MEC Chair
Cher Taylor- MCO
Council 79 Chair
Donald Whitmore
Council 84 Chair
Randy Hicks
Council 85 Chair
Josh Gibson
Check Registration Status
Please take a few moments to check your voter status or register to vote now: https://aflc.io/yTNGGmi0

Our voices will be heard 🇺🇸!!!!

In Solidarity, 

Government Affairs Committee
 
LAS Voter Registration Crew Room Sit