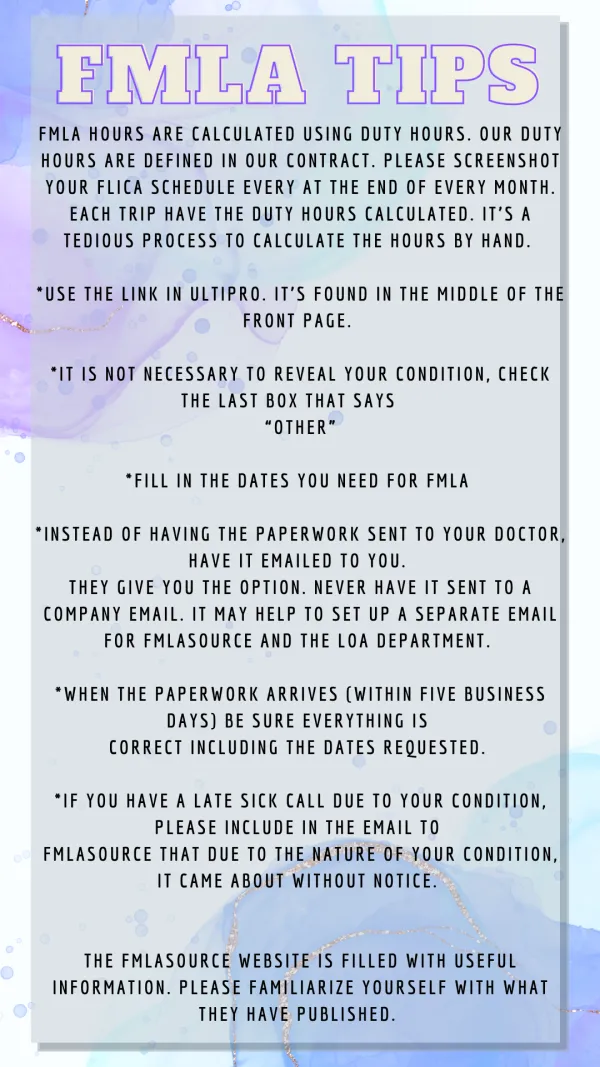 A Letter From Your MEC Chair
The past six months we have had some issues occur with fmlasource. According to CFR825.308, it is allowed that Frontier request recertification after six months for a continuous health condition after a call out. 
There were some flight attendants that fmlasource sent them  recertification paperwork and the LOA department was made aware. The LOA department then investigated and approved recertification without any explanation. 
We are now seeing theses same flight attendants now being asked again to recertify. Because there was no paperwork turned in for the first request, it is allowed by the government to ask again in less than six months. 
If you're asked to re-certify and had out of pocket expenses because of this, please let us know. 
Also remember, your IFMLA covers two doctor visits per year and if you need to take a day off to see your doctor to have the recertification done, you may use one of those days available to you. 
 
In Unity,
Carol Thompson
Purpose and Scope 
This Committee shall act in an advisory role to the MEC Officers in connection with Article 12, Leaves of Absence.   

Shall be knowledgeable in current contractually provided insurance programs, leaves of absence and occupational benefits.   

Shall have a working knowledge of the state worker's compensation laws of the states in which there are domicile locations. 

Be responsible for researching and recommending improvements in present programs through collective bargaining legislation and any other means. 

Keep the membership informed of all benefits and any changes in company, legislative or judicial policy regarding occupational injuries or illnesses. 

Knowledgeable about the Flight Attendant Short- and Long-Term policies and how they integrate with other occupational benefits.  

Knowledgeable about benefits associated with permanent disabilities.   

Review material, handle correspondence and keep the LEC Chairs well informed of current benefit developments through email or text thread.